We work with you to place the right equipment and ensure a seamless installation.
Office size, location, and needs are only a few of the details that are factored into matching you with right coffee & water equipment. With such a wide selection of equipment to choose from, we are confident we can accommodate your needs in any office space. There is never a charge for repairs and turnaround time for a service call is typically the next day.
Coffee Machines
We make it easy for everyone to brew their favorite cup.
From traditional coffee makers to single-cup systems to top-quality espresso machines, we make it easy to indulge the whole office. Choose from a wide variety of reliable, convenient and versatile coffee makers from all the leading brands.
Traditional Coffee Brewers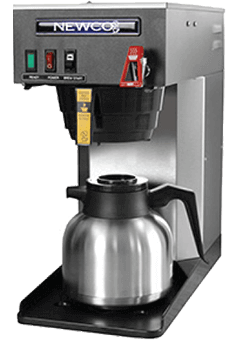 Thermal Carafe Coffee Maker
Save space without compromising quality. This thermal carafe coffee maker is a low-profile, easy-to maintain coffee maker that fits under most cabinets. It brews 64 ounces of reliably great coffee in just three minutes, and keeps it hot for hours.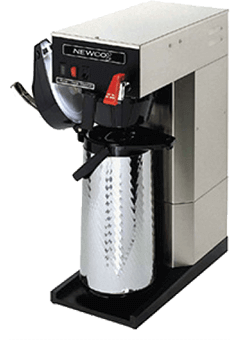 Air Pot Coffee Maker
The perfect traditional coffee machine for break rooms and meetings, this air pot coffee maker is compact, reliable and fuss-free. Brew great-quality coffee directly into insulated air pot servers, and keep it hot for more than eight hours without burning.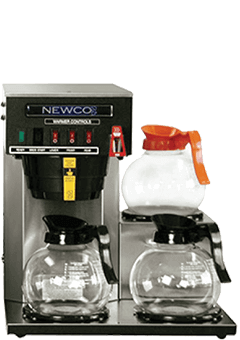 Glass Pot Coffee Maker
Great for any office where coffee is consumed fast, this tried-and-true glass pot coffee machine is loaded with advanced features. Multiple warmers keep several pots of coffee cup-ready, while dishwasher-safe decanters are quick and easy to clean.
Single-Cup Coffee Makers
Water
Pure water for pure refreshment.
Provide your office with a renewable supply of environmentally friendly, pure, fresh and healthy drinking water. The popular ION or Water Logic water purification systems are easy to use, affordable, and come in a variety of configurations to fit any office space.
Additional Equipment
For those who are looking for something more.
Boost smiles with exciting on-demand offerings—Kegerators for your favorite cold brew coffee & kombucha, the Bevi which serves up flavored sparkling or still water at the push of a button, and the Follett Series 15 ice machine which produces the popular Chewblet® ice.
A fit for every need.
We've got the right equipment for the job. Choose from our extensive list of traditional and single cup coffee brewers, water purification systems and specialty equipment such as kegerators, Bevi and ice machines.