We work with you to place the right equipment and ensure a seamless installation.
Office size, location, and needs are only a few of the details that are factored into matching you with right coffee & water equipment. With such a wide selection of equipment to choose from, we are confident we can accommodate your needs in any office space. There is never a charge for repairs and turnaround time for a service call is typically the next day.
Coffee
We make it easy for everyone to brew their favorite cup.
From traditional coffee makers to single-cup systems to top-quality espresso machines, we make it easy to indulge the whole office. Choose from a wide variety of reliable, convenient and versatile coffee makers from all the leading brands.
Traditional Coffee Brewers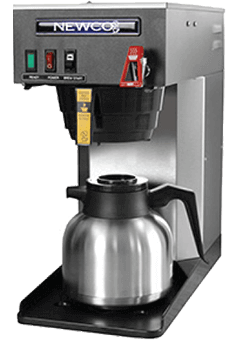 Thermal Carafe Coffee Maker
Save space without compromising quality. This thermal carafe coffee maker is a low-profile, easy-to maintain coffee maker that fits under most cabinets. It brews 64 ounces of reliably great coffee in just three minutes, and keeps it hot for hours.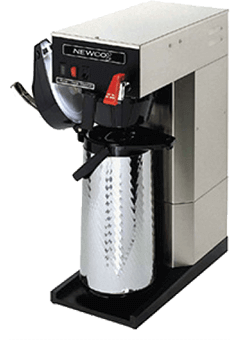 Air Pot Coffee Maker
The perfect traditional coffee machine for break rooms and meetings, this air pot coffee maker is compact, reliable and fuss-free. Brew great-quality coffee directly into insulated air pot servers, and keep it hot for more than eight hours without burning.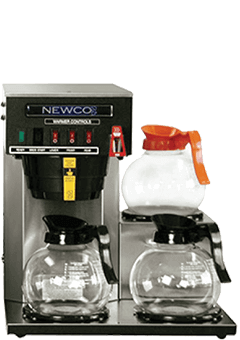 Glass Pot Coffee Maker
Great for any office where coffee is consumed fast, this tried-and-true glass pot coffee machine is loaded with advanced features. Multiple warmers keep several pots of coffee cup-ready, while dishwasher-safe decanters are quick and easy to clean.
Single-Cup Coffee Makers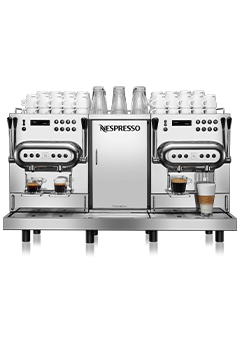 Nespresso Aguila 440
The Aguila 440 is a compact commercial Nespresso machine that is high in performance with an unmatched choice of one-touch recipes.
Virtu 90 Series
Bring the barista right to your office. The Virtu coffee maker grinds whole bean coffee fresh for every cup. Its intuitive touchscreen makes it easy to choose anything from traditional coffee to cappuccinos, mochas and more.
Nespresso Momento 120
The Nespresso Momento 120 features touchless brewing options and a built-in tank for fresh milk to create exceptional, barista quality coffee drinks like Lattes, Cappuccinos and Macchiatos with just one touch.
Bunn Sure Immersion® 312
Grind, Air Infusion, Extraction®; A path to great coffee. The Sure Immersion 312 grinds and brews fresh coffee one cup at a time, and offers two topping options.
Nespresso Momento 100
The Nespresso Momento 100 is sustainably designed with your business needs in mind. The smart technology makes it easy for anyone to create a perfect coffee with an intuitive touchscreen that brews with just one touch.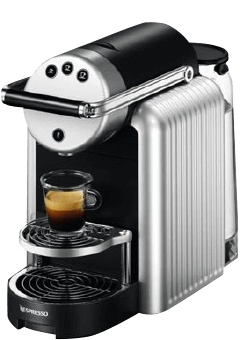 Nespresso Zenius
Bring the world's best espresso to your office with a simple, single-cup espresso system that's tall on quality. Just insert the desired Nespresso capsule, pull down the handle and press a button to initiate the brew in any of three sizes.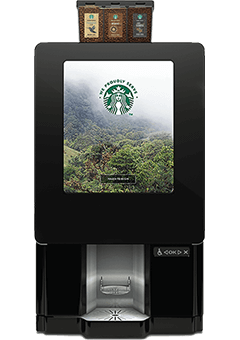 Starbucks Serenade™ Digital Brewer
With engaging content on its enhanced 17" screen, Serenade™ single-cup brewer brings the brand to life with a genuine Starbucks Experience, that's conveniently self-serve.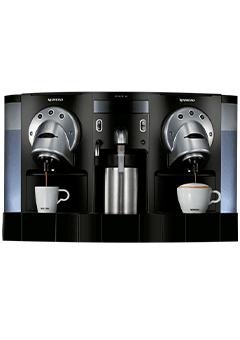 Nespresso Gemini
Share exceptional milk-based coffee recipes with your customers and employees. Fitted with the double head technology and milk frothing function, this machine is perfect for Latte lovers.
Bravilor Sego
Sego is a fully automatic bean-to-cup machine with two whole bean options and another for topping.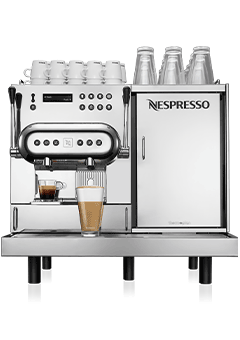 Nespresso Aguila 220
The Aguila 220 is a compact commercial Nespresso machine that is high in performance with an unmatched choice of one-touch recipes.
Cappuccinatore Milk Frother
The Cappuccinatore fits right beside your Nespresso coffee machine. Always fresh, always perfect, the Cappuccinatore uses a disposable nozzle system to ensure impeccable hygiene day after day.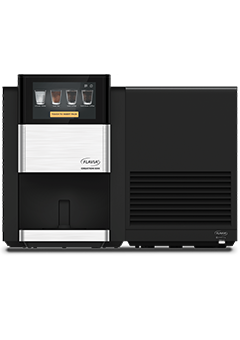 FLAVIA® Creation® 600
Featuring an unmatched selection of hot and cold drink choices, and the ability to froth fresh dairy or non-dairy milk right in your cup, the FLAVIA® Creation 600® has options for everyone.
FLAVIA® Creation® 500
Featuring a compact, modern design built to deliver the benefits you've come to expect—including reliable performance, hassle-free maintenance and no cross-contamination of taste from one drink to the next.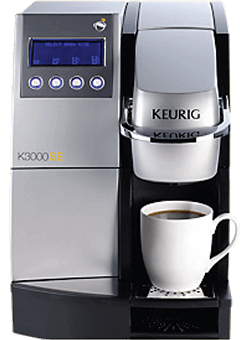 Keurig® K-3000
Why compromise when everyone can enjoy their perfect cup? Ideal for any large office, this advanced Keurig coffee maker brews each cup of coffee, tea, cocoa or tasty iced beverage fresh at the touch of a button on its LCD display.
Keurig® K-150
Choices, choices! Designed for small to medium-sized workplaces, this Keurig coffee maker features an interactive touchscreen that makes it quick and easy to brew a fresh cup of coffee, tea, cocoa or tasty iced beverage.
Curtis Gold Cup
Coffee brewing has evolved from a "cup of joe" into an art form. The Curtis Gold Cup gives premium coffee the credibility it deserves, and it gives you the ultimate coffee experience.
Water
Pure water for pure refreshment.
Provide your office with a renewable supply of environmentally friendly, pure, fresh and healthy drinking water. The popular ION or Water Logic water purification systems are easy to use, affordable, and come in a variety of configurations to fit any office space.
Additional Equipment
For those who are looking for something more.
Boost smiles with exciting on-demand offerings—Kegerators for your favorite cold brew coffee & kombucha, the Bevi which serves up flavored sparkling or still water at the push of a button, and the Follett Series 15 ice machine which produces the popular Chewblet® ice.
A fit for every need.
We've got the right equipment for the job. Choose from our extensive list of traditional and single cup coffee brewers, water purification systems and specialty equipment such as kegerators, Bevi and ice machines.