We know that hot coffee is important to your office.
Office Coffee Delivery Services in the San Francisco Bay Area
Coffee is happiness! It's the energy that keeps your employees happy—and that keeps your office running smoothly.
Associated has been delivering happiness across the San Francisco Bay Area since 1972. Trust your office coffee needs to us and see why we're the local specialists.
Order a FREE* Sampler and Learn why we're the experts at bringing you freshly-made, high-quality coffee for your office.
*Available only to the San Francisco Bay Area and Sacramento, California.
The Best Coffee Brands
Choose from hundreds of varieties of coffee from favorite brands such as Peet's, Starbucks, Tully's, as well as premier local roasters such as Equator, Philz, Ritual and Verve. Don't forget to try our house blends: a cost-effective alternative with the rich, fresh taste you love!
Philz Coffee
Voted best coffee in San Francisco, Philz Coffee's mission is to make the world a happier place, one cup at a time. Each Philz blend has been masterfully crafted by Phil himself using beans from around the world.

Peet's Coffee
Ever-popular with aficionados and pragmatists alike, Peet's Coffee selects the best-of-the-best beans from top growing regions and hand-roasts them in small batches, delivering superior-quality coffee that's guaranteed to please.

Starbucks Coffee
There's no need to leave the office to enjoy America's favorite coffee. We've been a Starbucks preferred office coffee provider since 1993, bringing the world's most recognized brand of coffee to satisfied employees all around Northern California.
Equator
In 1995, when business partners Brooke McDonnell and Helen Russell began roasting coffee in a Marin County garage, it marked the beginning of their journey to build a high-impact coffee company focused on quality, sustainability and social responsibility.
Verve
Verve believes that the coffee experience is their responsibility from seed to cup. Coffee is their craft, their ritual, their passion. With this simple truth and responsibility Verve is bridging the gap from farmlevel to streetlevel. Made in Santa Cruz.
Ritual
Ritual Coffee Roasters opened their doors on Valencia Street in 2005 and started what some call a coffee revolution in San Francisco. Their goal is to craft the very best cup of coffee available anywhere. Period.
Bella Rosa Coffee Company
Bella Rosa roasts and sources 100% organic, non-GMO, shade grown coffee. Bella Rosa also strictly sources Fair Trade Certified coffee, which in turn betters the lives of coffee farmers while helping preserve their culture.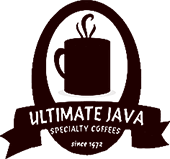 Associated Ultimate Java
Deep, dark, delicious and affordable, we blend and roast our Ultimate Java weekly in the great tradition of San Francisco Bay coffees—and provide it at a fraction of the price.
Associated Premium Blends
Enjoy flavor and freshness at a price that's sure to satisfy. Made from top-quality Arabica coffee, our premium blends are locally roasted in small batches, then packaged into fresh-pack bags and delivered straight to you.
Coffee Equipment
From traditional coffee makers to single-cup systems to top-quality espresso machines, we make it easy to indulge the whole office. Choose from a wide variety of reliable, convenient and versatile coffee makers from all the leading brands.
Virtu 90 Series
Bring the barista right to your office. The Virtu coffee maker grinds whole bean coffee fresh for every cup. Its intuitive touchscreen makes it easy to choose anything from traditional coffee to cappuccinos, mochas and more.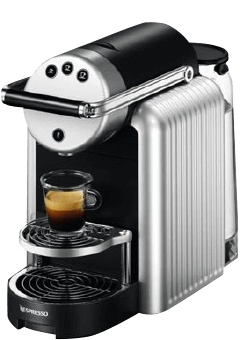 Nespresso Zenius
Bring the world's best espresso to your office with a simple, single-cup espresso system that's tall on quality. Just insert the desired Nespresso capsule, pull down the handle and press a button to initiate the brew in any of three sizes.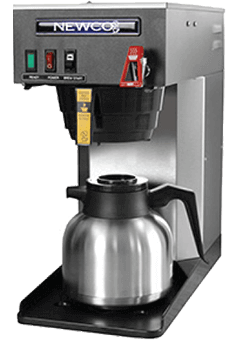 Thermal Carafe Coffee Maker
Save space without compromising quality. This thermal carafe coffee maker is a low-profile, easy-to maintain coffee maker that fits under most cabinets. It brews 64 ounces of reliably great coffee in just three minutes, and keeps it hot for hours.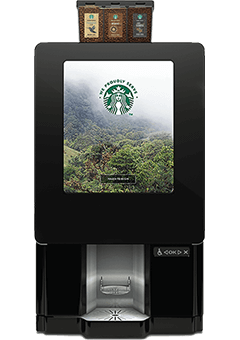 Starbucks Serenade™ Digital Brewer
With engaging content on its enhanced 17" screen, Serenade™ single-cup brewer brings the brand to life with a genuine Starbucks Experience, that's conveniently self-serve.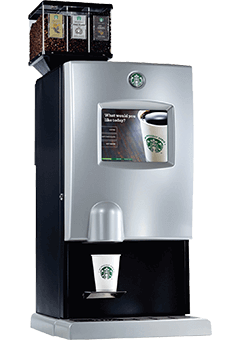 Starbucks Interactive Cup
This Starbucks I-Cup coffee maker is more than a perk. It's the fresh-brewed, rich, 100% Arabica way to tell customers and staff, "You're worth it." Every cup of Starbucks coffee is ground and brewed fresh to order in less than one minute.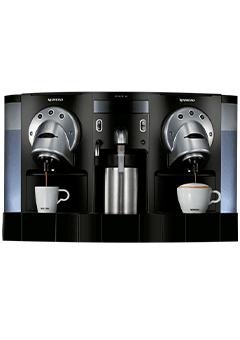 Nespresso Gemini
Share exceptional milk-based coffee recipes with your customers and employees. Fitted with the double head technology and milk frothing function, this machine is perfect for Latte lovers.
Cappuccinatore Milk Frother
The Cappuccinatore fits right beside your Nespresso coffee machine. Always fresh, always perfect, the Cappuccinatore uses a disposable nozzle system to ensure impeccable hygiene day after day.
FLAVIA C500
Featuring a compact, modern design built to deliver the benefits you've come to expect—including reliable performance, hassle-free maintenance and no cross-contamination of taste from one drink to the next.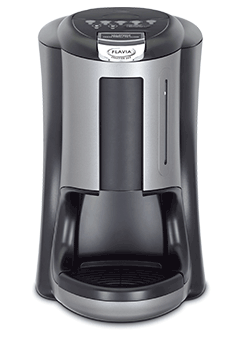 FLAVIA C200
Create just the right drink from more than 25 combinations. Designed for small offices, this FLAVIA® Creation® 200 brews direct and pure from pack to cup in less than one minute, with no need for cleaning between drinks.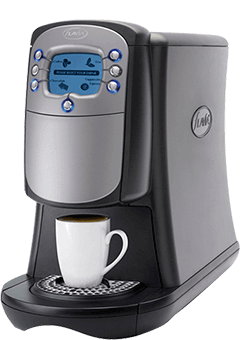 FLAVIA C400
Get all the selection and none of the mess with a compact FLAVIA® Creation® 400 that looks stunning in any large office. Serve smiles all around with a choice of more than 25 specialty drinks, easily customizable from the LCD display.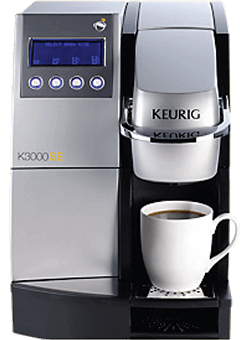 Keurig® K-3000
Why compromise when everyone can enjoy their perfect cup? Ideal for any large office, this advanced Keurig coffee maker brews each cup of coffee, tea, cocoa or tasty iced beverage fresh at the touch of a button on its LCD display.
Keurig® K-150
Choices, choices! Designed for small to medium-sized workplaces, this Keurig coffee maker features an interactive touchscreen that makes it quick and easy to brew a fresh cup of coffee, tea, cocoa or tasty iced beverage.
Curtis Gold Cup
Coffee brewing has evolved from a "cup of joe" into an art form. The Curtis Gold Cup gives premium coffee the credibility it deserves, and it gives you the ultimate coffee experience.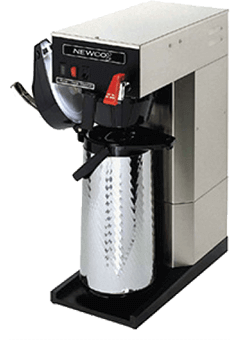 Air Pot Coffee Maker
The perfect traditional coffee machine for break rooms and meetings, this air pot coffee maker is compact, reliable and fuss-free. Brew great-quality coffee directly into insulated air pot servers, and keep it hot for more than eight hours without burning.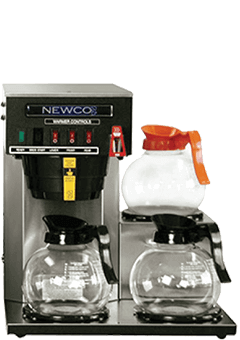 Glass Pot Coffee Maker
Great for any office where coffee is consumed fast, this tried-and-true glass pot coffee machine is loaded with advanced features. Multiple warmers keep several pots of coffee cup-ready, while dishwasher-safe decanters are quick and easy to clean.